Green Acres
Drive-In
Family Operated since 1956
Located in Dolgeville, New York
Green Acres opened in 1956 and is located in Dolgeville New York. Through all those years it has been run by the same family. Serving up classic food, desserts and family tradition.
Not only has the Green Acres Drive-In been a staple of the community but so has its owners. Ruth and Peter have been involved in the Violet Festival, Girl Scouts, Little League Teams, School Board, Dolgeville and Manheim Boards, Zoning Board of Appeals and the Adopt-a-highway program.
Would you like to work at Green Acres Drive-In? Download an application today click here.
Open 7 days a week Spring, Summer and Fall. Find us on Facebook, Twitter and Instagram.
Phone
(315) 429-8271
Location
Route 29 West
Dolgeville, NY 13329
Hours
Spring & Fall 11a–9p
Summer 11a–10p
Open 7 days a week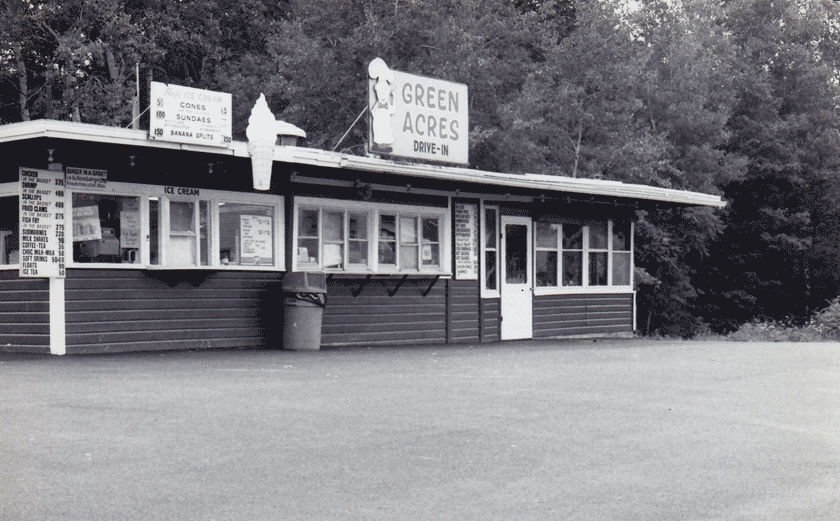 Desserts
Ice Cream
Soft Ice Cream
Chocolate, Vanilla, Twist, Weekly special flavors
Soft Frostline or Dole Whip
Lactose free, .5 grams fat, 0 cholesterol
Flavor changes weekly
Hershey's Hard Ice Cream
Chocolate, Vanilla, Strawberry, Maple Walnut, Green Mint Chip, Peanut Butter Cup, Moose Tracks, Cotton Candy, Chocolate Chip Cookie Dough, Frozen Yogurt, Special Flavor and a sugar free flavor available
Toppings
Dip Topping
Chocolate, Cherry, Peanut Butter

Sprinkles
Rainbow, Chocolate

Nuts
Honey Roasted Peanuts
Candy
Ice Cream Sandwiches, pies and pints
Ice Cream Pie Slices
Ice Cream Pies (made to order)
Ice Cream Sandwiches (individual or 6 pk)
Pints of soft Ice Cream/Dole Whip
Milk Shakes, Smoothies & Flurry's
Milkshakes
Vanilla, Chocolate, Strawberry, Black Raspberry, Coffee, Oreo, or made with hard ice cream.
Boston Shake
Chocolate milkshake with hot fudge sundae on top
Fruit Smoothies Made With Real Fruit
Strawberry, Peach, Blueberry, Wild Berry, Strawberry/Banana
Flurry's
Soft ice cream blended with a choice of candy: M&M's, Oreo's, Snickers, Reese's Pieces, Butterfingers, Mini Chocolate Chips, Peanut Butter Cups, Toasted Coconut, Cookie Dough
Ice Cream Cakes
Ice Cream Cakes Made to Order
Chocolate cookie crunch base, Chocolate ice cream layer, Vanilla ice cream layer (some special flavors are available). Cakes are frozen solid over night. Colored frosting, personalized messages and sprinkles can also be added.

Fillings (optional for additional fee): Fudge, Peanut Butter, Raspberry, Strawberry, Pineapple and Apple.
Candy Pieces (optional for additional fee): Butterfingers, Oreo pieces, chopped M&M's, Mini Chocolate Chips, Peanut Butter Cups, Reese's Pieces, Snickers, S'mores and Cookie Dough.

Please order two days in advance, click here to download an order form.

Ice Cream Sundaes
Ice Cream Sundae
Hot Fudge, Apple, Caramel, Peanut Butter, Strawberry, Raspberry, Pineapple, Marshmallow. Served with soft ice cream unless noted otherwise, whipped cream and a cherry.
Banana Split
Waffle Cone Sundae
Extra toppings, Marshmallow, Nuts
Specialty Sundaes
Hot Caramel Apple Sundae
Fudge Raspberry (or Strawberry) Sundae
Fudge Brownie Sundae (Homemade)

Reese's Pieces Sundae
Soft Vanilla ice cream, Hot Peanut Butter with Reese's Pieces.

Peanut Butter Cup Sundae
Soft Vanilla ice cream with Hot Fudge and Hot Peanut Butter topping with a mini peanut butter cup on top.

Cookie Dough Sundae
Hard Cookie Dough ice cream with Hot Fudge and Cookie Dough Chunks.

Samoa Sundae (just like the cookies)
Soft Vanilla ice cream with Hot Fudge, Caramel and Toasted Coconut.

Cookies and Creme Sundae
Soft Vanilla ice cream with Hot Fudge and Oreo Cookie pieces.

Butterfinger Sundae
Soft Vanilla ice cream with Caramel and Crushed Butterfingers.

Mounds Sundae
Soft Vanilla ice cream with Hot Fudge and Toasted Coconut.

Peanut Butter and Jelly Sundae
Soft Vanilla ice cream with Hot Peanut Butter and Raspberry topping with a mini peanut butter cup on top.

Rolo Sundae
Soft Vanilla ice cream with Hot Fudge and Hot Caramel topping with a mini Rolo candy on top.

S'more Sundae
Soft Vanilla ice cream with Hot Fudge, Marshmallow toppings and a S'mores candy on top.

Moose Dropping Sundae
Hard Moose Tracks ice cream with Hot Fudge, crushed Chocolate cookies and mini Chocolate Chips.

Grasshopper Sundae
Hard Green Mint Chip ice cream with Hot Fudge and crushed Fudge Mint Cookies.

Worms and Dirt Sundae
Hot Fudge, Cookie Crumbles and Gummy Worms.

Sugar Free, Fat Free Sundae
Sugar free, fat free fudge on hard sugar free ice cream.
History
So many times I hear: we used to come here with my parents, grandparents, etc. We always stopped on our way to _______? We have great memories stopping here as kids, etc. I love to hear these stories, shared memories of times gone by. It warms my heart and makes me appreciate how lucky and blessed my family has been to still be here 60 plus years later. This has been a family owned, operated labor of love from day one. My mother, Esther Bowers- Sidoran- Stewart- Austin worked here for the original builders of Green Acres, that little stand shown in the pictures. 1955. They decided to sell and in an instant my parents were the operators, owners of Green Acres. Dad, Rodney Stewart continued to work at General Electric in Utica until they felt they could make a living from the stand. He continued to work winter jobs for many years as their family was growing and Green Acres continued to expand. He plowed snow for the Town of Manheim, he was a rural mail deliverer, he worked in a gas station in Florida, memories….We spent a few winters in Florida; went to school there and had great adventures as a family. People still think we go to Florida in the winter and run a place down there; nope we do not and we never had another "Drive In" in Florida.
Back to the beginning… mom would have to ask someone watch the stand while she ran home to use the facilities, that's how little it was. Linford Homrighaus was usually the one that would stop daily to check on my mom; to give her a break and he became a very close, family friend for the rest of his days. He completed many small projects as a welder for the kitchen and we continue to use his stands to this day, memories….
It is hard to write this and think back and not miss them all to the point of tears. The front counter has cigarette burns on it where my dad would have a cigarette burning in each end of the kitchen; I have not had the heart to cover it up; memories…
Speaking of cigarettes, we had this little rack on the front counter and sold a few brands. Harry Finkle the original owner of Hill and Markes, Inc came by weekly in his large station wagon and sold cigarettes and candy out of his car. Now, they are a very large corporation and sell all over upstate New York. We still do business with them today. Now, Harry's grandchildren are running the operation. Memories…
As kids we all worked at Green Acres, my siblings grew out of it; I never did. My husband Peter and I bought and took over in 1988. Dad retired at that time. My mother had moved on and was operating her own gift shop, the Plum Tree by then. She was a true entrepreneur, she started and operated several business ventures over the years. She had no fear to take chances; she always gave it her all, she was a woman business owner when there were very few around, memories…
Our daughter, Julia and many of our nieces and nephews, step children, grandchildren have worked here at Green Acres. I believe it is a great start for young people; it has been a privilege and a joy to work with all of the young people and other employees throughout the years. We have three generation employees, isn't that amazing for a small stand? We have mother and children that have worked, sisters, Aunts, Uncles etc, a true family tradition but not just our family; yours too.
Another interesting part of our history: they did not own the land in the beginning. They leased it from the railroad that was located across the street behind George Lumber. It was not till several years later that the railroad wanted to get rid of the land that they were able to purchase the lot, roughly 3 acres on the corner of Green Street; hence the name: Green Acres Drive In.
Many remember the car hops, the parking lot was oiled dirt and stone back then; they never had roller skates as many believe. Oh, how our shoes used to get filthy. It was hot, hard work for those girls. In 1975-76 my dad expanded the very small dining room that they had added and that was the end of the car hops; everyone wanted to come inside and eat. Ironically dad hired my husband, Peter to build the addition. Those picnic tables we still use today, memories…
So, as I enter into my senior years, I too will look to pass on the tradition of a great family business and hopefully the next generation will make new memories.
Thank you to all that have supported us and share their stories, keep them coming. We try to stay current and continue to evolve your choices. We promise to only use pure ground beef, and the best quality frying oil that is on the market. We have added three credit card machines at each register for your convenience; we have low fat, gluten free choices. We have a small vegetable garden that we grow vegetables for your fresh salads in season. We just remodeled our rest rooms and made a handicapped accessible one for your convenience. We are here because you support us, we humbly thank you.